2018 AudioFile Earphones Award winner for excellence in audiobooks
Short-listed for the Romance Writers of America's 2019 RITA® in
Mainstream Fiction with a Central Romance
An emotional novel of love, loyalty, and faith—one woman's exhilarating journey of self-discovery during World War II:
A beloved and sheltered daughter of an American missionary is forced to flee China for the United States, where her definitions of love, loyalty, and what it means to be a woman will be turned inside-out by the demands of a country at war.
Lake Union Publishing
ISBN-13: 978-1503903876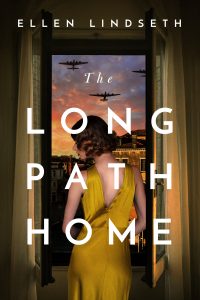 A young woman on the run finds a second chance in World War II Italy . . .
1944, Chicago. From desperate small-town teen to star of the burlesque circuit, Violet Ernte has survived tough choices and more than one reinvention. Now, framed for an underworld murder, she has one way out: agree to keep Marcie, a reckless USO showgirl and mobster's daughter, on the straight and narrow. Vi's new act: play innocent ingenue and join the all-American song-and-dance troupe bound for overseas to a war-torn Italy.
When a USO headliner goes missing soon after landing, the disappearance has treacherous implications for the entire troupe. With Marcie's safety in peril, Vi turns to battle-roughened army sergeant Ansel Danger for help. But getting closer to Ansel means exposing her past and her double life of scandal and deception. And in a heartbeat, she could lose everything.
Defiant and resilient, Vi is used to taking risks. This time it's for redemption. To love, and to be loved. And for a second chance at a future she thought was lost forever
Lake Union Publishing
ISBN13: 9781542004763